If you work or consider to start working in affiliate marketing, you probably came across one more business model, such as dropshipping. Dropshipping and its comparison with affiliate marketing can often be found as a heated discussion at affiliate forums, usually in the context of what is more profitable to go with. With affiliate marketing being more frequently on the public eye, not everybody, especially those who have just started affiliate business, fully understand what another model, dropshipping, is and how it is different.
And it's not that easy from the first sight. In both business models, you promote products that do not belong to you. In both cases, you are not responsible for product shipping and product quality, but responsible for the whole marketing and promotion processes.
Characteristics that affiliate marketing and dropshipping have in common:
Own responsibility for product promotion;

No responsibility for holding inventory or shipping;

Endless income opportunities at both business models;

Rather fast set-up and launch of the business;

Comparably low-risk business models;

No need for large-scale investment.
With so many things in common, what is that makes affiliate marketing and dropshipping different? The main difference lies in the compensation scheme. Affiliates receive commissions from the generated amount of conversions, while in dropshipping, you can put your own price on the product, and the margin between yours and actual rate will be your earning. But first things first.
Dropshipping Model
In dropshipping, you can sell products from different vendors on your own website. The main peculiarity is that in this business model, you can influence the final cost of a product and place your own price. In this way, you also determine the size of a commission you get from every transaction.
You can describe the dropshipping model in the following way:
You set a price for a product. For example, instead of the product's real value worth $20, you decide to sell it for $30;

A consumer places an order on it and pays you the retail price of $30;

You forward this order to the vendor and pay wholesale of $20;

The vendor ships the product to the consumer, and you keep your margin of $10 as a sale commission.
Affiliate Marketing Model
Affiliate marketing is an advertising model in which a company has an agreement with an affiliate to drive customers to the company's products or services. In return, the affiliate earns a payout for referring actions. Affiliates can't influence the size of a commission. It is only up to the program terms and conditions to set them.
What exactly is happening at affiliate marketing scheme:
You place an affiliate link and promote a product

A consumer clicks the link and decides to buy it

You get a commission from every generated conversion
Dropshipping Vs  Affiliate Marketing
For a total newcomer, it may be very complicated to choose between affiliate marketing and dropshipping. On the outside, it may seem that the difference is a slight one, and all the other aspects are the same, and then why not go with the model that brings more profit? But as a matter of fact, it is more complicated. The remuneration difference is only the tip of the iceberg. Many things are not evident from the first sight, but very important to be taken in mind.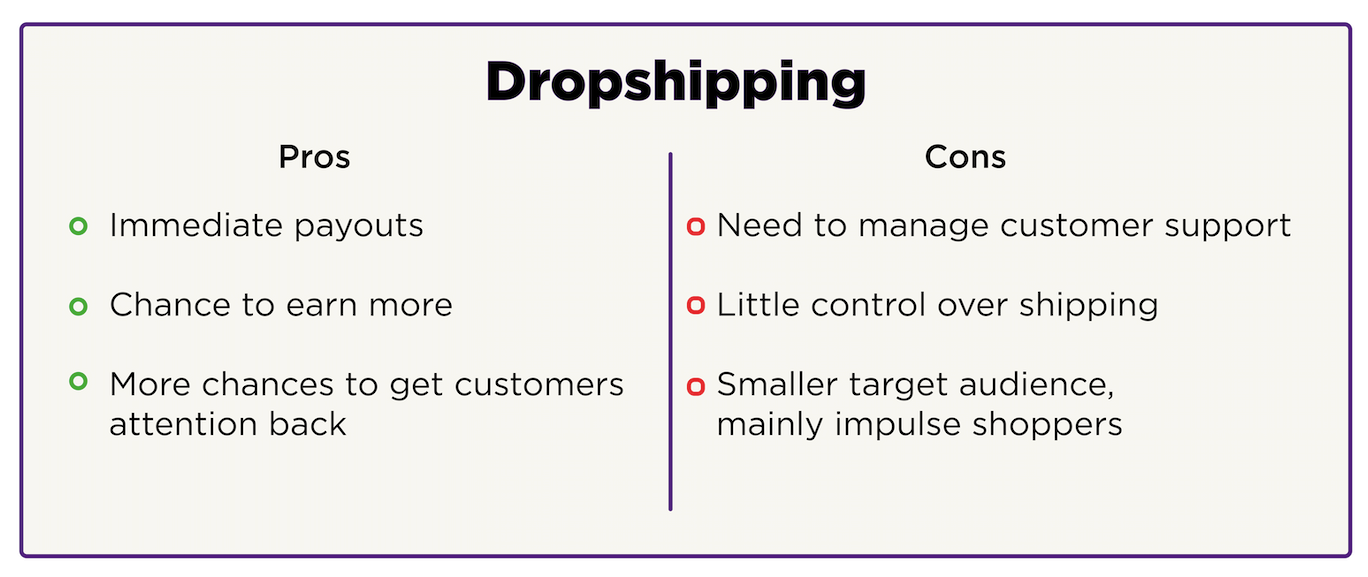 Dropshipping Pros
In the dropshipping model, you don't accumulate a large amount of generated sales. There is no such thing as a threshold that you need to reach to get paid. In that way, the dropshipping is different (and better) compared to affiliate marketing, you don't risk being left without your earnings in case you don't reach a certain amount of sales. Instead, you can cash out your first sale straight after a customer pays you the retail price.
As you can manage the price in dropshipping, your chances to earn more per one item are relatively higher. You don't have such an option in affiliate marketing, where you receive a percentage from the sale. In dropshipping, you get remuneration over the cost of a sold item – by raising the price of a product you can increase your earnings.
If you want to earn more, you can raise the price of a product. Just make sure that it remains reasonable for a market or come up with a strong marketing strategy.
More chances to get the customers attention back
As you are managing the online store on your website, you can apply retargeting and chase your audience till they finally complete a purchase. With affiliate marketing, you don't have this option, since you're sending the traffic to somebody else's websites.
Dropshipping Cons:
Need to manage customer support
Dropshipping websites are taken for eCommerce stores because they genuinely look like them. So when customers shop at your site, they don't differentiate it and think that they buy directly from a vendor. If you decide to go with dropshipping, be ready that you will need to provide customer support, and this is extra responsibilities. But luckily nowadays there are plenty of opinions to simplify and reduce your workload. You can outsource communication with customers. Freelancers, Upwork, or specialized agencies – fortunately, nowadays, there are many options.
Smaller target audience – impulse shoppers
Dropshipping is mainly about impulse buying. A significant amount of people tend to go and compare products to find the best deals – in this case, they won't order from you. Why would they overpay? Thus dropshippers need to come up with some novel approaches to make people fall in love with a product and order it immediately.
Additionally, your success in dropshipping depends considerably on the chosen niche. Should you choose one that is already overcrowded, you won't be flexible in establishing your pricing. On the contrary, you will have to put your prices even lower to stand out among the competitors.
Little control over shipping
Complaints regarding the shipping time are inevitable. It doesn't mean that shipping problems always occur, but it can often go not the way you promised to a client.
Delays in shipping happen owing to suppliers' decision to ship the products as per their convenience, and sometimes a delay of few or many days can occur. And even though you have the shipping order ID, for several days, you will remain clueless about the state of your order.
It is not only the problem of dropshippers, but it is also a problem of suppliers. The difference is that it is a dropshipper who receives a whole bunch of negative emails and risks losing the clients. They may continue buying products from the same supplier without even knowing that. But they will order through another dropshipper. Delayed shipping and its consequences might be one of the most discouraging things about dropshipping. Affiliate Marketing Pros:
No customer support needed
In affiliate marketing, you exempt yourself from customer service obligations. Customers don't buy from you. Your role is more of a guidance character to promote a product. As customers buy from a merchant, they don't expect you to provide any customer support. Thus once people buy a product through your link – your work is done. Instead of troubling to organize customer support, you direct your time and efforts on building stronger promotion strategies to attract and convert more.
The same as in dropshipping, you don't need to worry about order fulfillment, stock issues, and any delivery issues. But besides that, you also don't need to set up your own store or worry about buying domains. You join affiliate programs, such as, for example, Clickbank, Amazon Associates, ShareASale, take offers and start promoting them. Your main expenses will be mainly associated with marketing costs: spendings on website or domain and traffic driving.
Great way to earn passive income
It will be a lie to say that affiliate marketing is a passive income. But if it can become one. Once you invest in the promotion of your brand and figuring out the best marketing strategy for product promotion, the major part is done. After that, you can have paid ads running in the background and your brand converting sales owing to its recognition.
Affiliate Marketing Cons:
You can't influence the amount of payout like in dropshipping. You only get a fixed commission from the leads that you bring. And sometimes you can spend more money on attracting customers then the commission that you earn in the end.
The only option to earn more in affiliate marketing is to perform better. Some programs may motivate you to perform more by introducing specific bonuses upon reaching a particular performance.
Besides, do not forget about thresholds that you may need to reach to get paid. That could be hugely demotivating – as you would have put much effort and done the most significant part of the work, but 1 or 2 dollars set-back will leave you with nothing.
Payments are not always on time
There are many more difficulties managing finances in affiliate marketing compared to dropshipping. Usually, affiliate commissions are paid every month or upon reaching a certain performance extent. Unfortunately, there are cases when payments get delayed due to a backlog or some other financial issue that merchants can have. In this case, dropshipping is safer, as you receive compensation once a client pays you for an order.
Your affiliate link can be removed
As many people don't understand the peculiarities of affiliate marketing, they tend to see affiliates as scammers that take their money. They feel as though they cheat them out for extra money that ends in their pockets – when, in fact, it is not true.
In such a way, when customers recognize an affiliate link, they immediately become suspicious. Unless you use a link shortener to cover up your affiliate link, customers can assume that they pay more if they complete a purchase following this link. Thus they remove a part with tracking code or simply go directly to the website. In this way, affiliate efforts are down the drain.
Conclusion
Having read through all the pros and cons of both business models, you may think that there is no fast response. And indeed you are right. While some drawbacks may cause careful consideration in favor of one of the models, the total pros and cons weighing shows that you can earn a significant income with both models, but naturally, it will require some efforts.
Should you decide to go with affiliate marketing, we can be of help in providing software that manages ad campaigns. Managing affiliate programs at Affise proved to be easy and profitable. If you consider starting an affiliate program, try with us. We will be glad to tell you more and walk through the whole process.