Generating traffic and leads is a top challenge for 61% of marketers, the survey says.
The choice of affiliate marketing traffic sources heavily relies on the affiliate offer you want to promote. That's why, there is no ultimate affiliate traffic source for everyone.
Ideally, traffic leads to more conversions and profits. But if gained traffic does not match the target audience of your affiliate products, all your effort would be equal to zero. You need to choose traffic sources smart, but target the audience even wiser.
Traffic strategies differ depending on your advertising budget. Also, various methods of traffic generation require your knowledge of laws and regulations. So, we also sort this ultimate list of affiliate marketing traffic sources by the required promoting experience.
We hope that this article will help you pick the right traffic source for your business in affiliate marketing. Let's jump in!
Top Paid Traffic Sources (PPC & PPV Advertising)
Paid traffic is those originated from paid advertising. Usually, it's a quicker form of traffic acquisition, but obviously, it has higher cost risks. Targeting of paid advertising allows to directly advertise on people who are most likely to buy your product.
PPC (pay-per-click) advertising and PPV (pay-per-view) advertising both are charging methods for campaigns promotion. PPC imposes you for clicks on your ad links, and PPV imposes you for each view of your landing page. PPC advertising is a more popular payment method, which you'll face more often anyway.
Paid Search Advertising
Paid search is a form of advertising showing up in the way of search engine results, which depends on keywords in search queries. Paid search advertising search results come in a similar form of usual search results, and you pay for each click to your link. Paid search results seamlessly blend into search pages, which gives instant outcomes in the form of clicks and leads.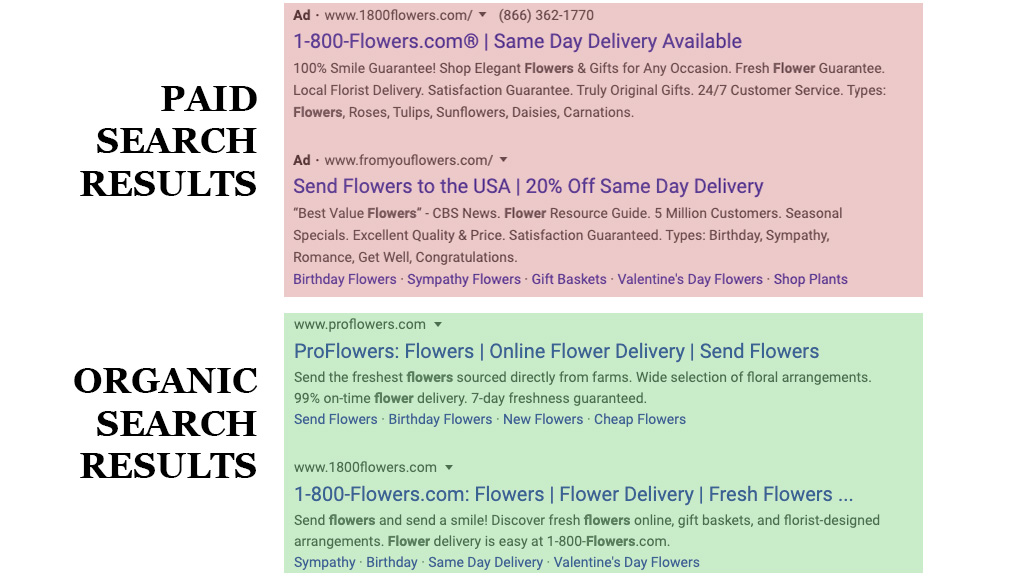 On the other side, the paid search advertising is a high risk of low profits. This traffic source – considering the Google search engine, especially – is highly competitive and expensive. But if you can figure out how to make paid search advertising work and adjust your budget accordingly, it can be hugely profitable.
Here is a list of most popular search engines in the world:
Google
Bing (Microsoft)
Yahoo
Yandex (Russian)
Baidu (Chinese)
Contextual Advertising & Display Media Buying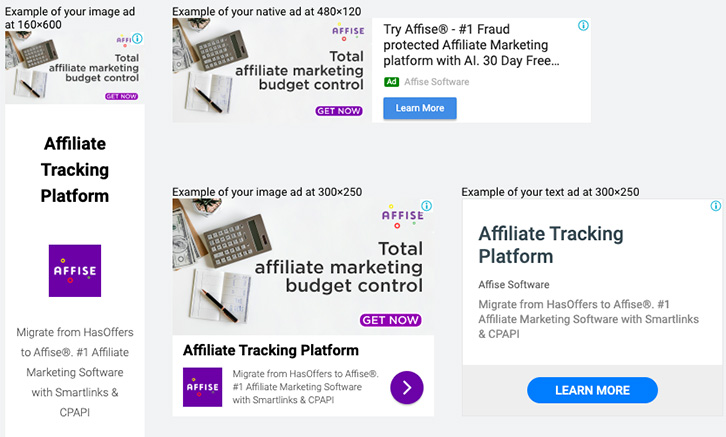 Contextual advertising comes in the form of textual or visual ad blocks at websites that use Google Adsense or other ad network's monetization system. The whole point is to get the most reach out of the ad campaign through banners, text, or video on many different websites. But it might not be a good strategy if you work in a very narrow niche.
The most popular networks for contextual advertising are Google Display and Microsoft, but you always can try alternatives like:
AdBuff
Chitka
Clicksor
Admedia
BuySellAds
Infolinks
Adblade
Also, you can approach the publisher directly to buy ad space on their website. This type of advertising is called display media buying and works by the various payment principles. You can be charged per clicks (PPC), per impressions (CPM or cost-per-mile), and even on a time basis (how long your banner will be displayed on the publisher's website).
Native Advertising & Discovery Content
Native advertising comes in the form of editorial content blended into media sites. It must not provoke rejection from readers and do not cause banner blindness. For example, sponsored articles on Forbes website not right away look like advertising until readers dive deeper into reading this article.
To make sure your native advertising content will work, you need to create content similar to the publisher's style, authoritative, and valuable for readers.
Another way to promote your campaign is through discovery content advertising. On the public media resource, at the end of the published material, the reader sees a list of sponsored content on related or other popular topics – discovery content.
Top platforms for native advertising and discovery content are:
Outbrain
Taboola
Yahoo Gemini
Nativo
Revcontent
MGID
Social Media Advertising
Social advertising comes in the form of text and banners showing up at the most popular social media networks in the world. In addition to the geographical targeting of paid search advertising, you get the best demographic targeting and targeting by personal interests in social networks. Also, social media advertising is still way cheaper than Google Ads.
Today, almost every social media offers multiple options for setting up effective advertising campaigns:
Facebook
Snapchat
Instagram
Pinterest
Twitter
LinkedIn
Reddit
Quora
Mobile Advertising
Mobile advertising is the fastest-growing traffic source which comes in all forms of ads on mobile devices and mobile apps: banners, push notifications, redirects, pop-unders, etc. You can target your campaigns by operating systems and by type of device, carries, handsets and more.
Mobile advertising still isn't very expensive, but can produce high revenues for you. The only obstacle, perhaps, is that your ad can display wrongly on some devices, so you need to prepare banners and copy texts keeping that in mind.
Adsterra
StartApp
AdCash
inMobi
Go2mobi
MobiCow
millennial media
AirPush
TapJoy
Want to know more about mobile advertising and marketing? Check our view on mobile marketing trends for 2020 and beyond.
Retargeting
Retargeting is a display of advertising on third-party sites specifically for your website visitors. Retargeting allows you to return a user who is already familiar with your offer or product. This traffic acquisition method usually shows a very high conversion rate.
Adroll

Retargeter

Perfect Audience
Top Organic Traffic Sources
Organic traffic sources request less advertising costs. At the same time, quality content brings a lot of traffic. Keep in mind though that free methods to bring traffic demand time and considerable effort to create useful, high-quality content.
Organic Search (SEO Traffic)
SEO (Search Engine Optimization) gives you organic traffic from search queries. It's a long term growth and doesn't bring traffic straight away. On the other note, SEO traffic has much lower budget risks than paid search advertising.
People know for many years now that you can't pay to be in Google search top results. So, the organic search brings warm traffic to your website consistent with people looking to get real answers for the problems and gain some useful information.
Without quality content you are very unlikely to get links to your site which is one of the main reasons to go get listed high in search results. While this is the most reliable traffic source it could take months to get your SEO-strategy work.
Google is the most visited site in the world. Still, you should keep in mind other search engines like Bing, Yahoo, Yandex, Baidu, and even DuckDuckGo, because they bring sufficient organic traffic too.
Social Media (SMM Traffic)
Like SEO, social media management requires a lot of time and effort. You need to create large base of followers on Facebook, Twitter, Instagram, LinkedIn, Pinterest, Youtube, etc. Regularly make posts, and engage your audience. Also, in the future, work together with other influencers in your vertical.
If you manage to create a popular social community, you can start to monetize your social media content with affiliate offers. But you need to continue producing quality posts to keep your followers hooked.
Email Marketing
Email marketing is an excellent tool for keeping in touch with people interested in your offers. Through the subscription form on your website, you can grow your mailing lists and use it for future affiliate promotions and advertising. Email marketing is a useful traffic source that, for some reason, many affiliates underestimate. Also, popup and push-notifications could be substantial additions to your email marketing strategy.
Email marketing, by itself, is a free affiliate source. Still, you also could enhance your range through paid advertising spots inside third-party emails. In some cases, you may even find paid mailing lists, but you should remember about laws and regulations considering spamming.
Adult Traffic Sources
Do you want to promote, let's say, a dating offer? In that case, not all mainstream ad networks would go with it. You'll need to find alternative ways for promotion and traffic acquisition.
Adult traffic consists of people who are looking for adult content or services on the Internet. It's a large-scale business, and it's legal in most Western countries. However, don't think adult traffic is easy to get because it has an extremely competitive nature.
The primary adult traffic sources are:
Conclusion
The choice of traffic source is highly dependent on the niche. If you are a beginner in affiliate marketing, then we recommend starting to generate traffic through mainstream networks first. Besides, if you pick one traffic source and become proficient in it, this way, you get much better results. Later, when you get more experience or find a narrow niche, you can try alternative methods and partner with a lesser-known affiliate marketing traffic sources.
We hope this article was helpful, and you were able to choose the source and a strategy of attracting your first affiliate traffic.