One of the milestones of performance marketing is choosing a reliable solution to track affiliate sales. In practice, however, the functional of affiliate marketing software is much more extensive, it fulfills its role not only as a tracker, but also as the full affiliate management system.
When looking for an affiliate marketing platform, the first concern that comes to mind, is whether to outsource a SaaS marketing platform or to have an in-house affiliate network platform. But what are the other things to pay attention to? To choose the right affiliate software you need to keep in mind the core functions that it must provide: kick-starting and running the affiliate campaign, managing the number of affiliates and offers, analyzing and optimizing the performance for higher returns. Also, taking care of the general workflow that every online business has: automating the routine work and customizing pages to match your brand. In other words, affiliate marketing software must be able to manage, analyze, optimize and customize your affiliate campaigns.
Let's have a more in-depth look at the essential features that are responsible for carrying out management, analytics, optimization and customization:
1. Managing the whole process of running an affiliate program
Managing affiliate campaigns is a vast feature that embraces many subfunctions: setting up ad campaigns, managing them, tracking their performance update. Here you need to pay attention at advanced tracking, dashboards figuration, smart targeting and cap management, payment models.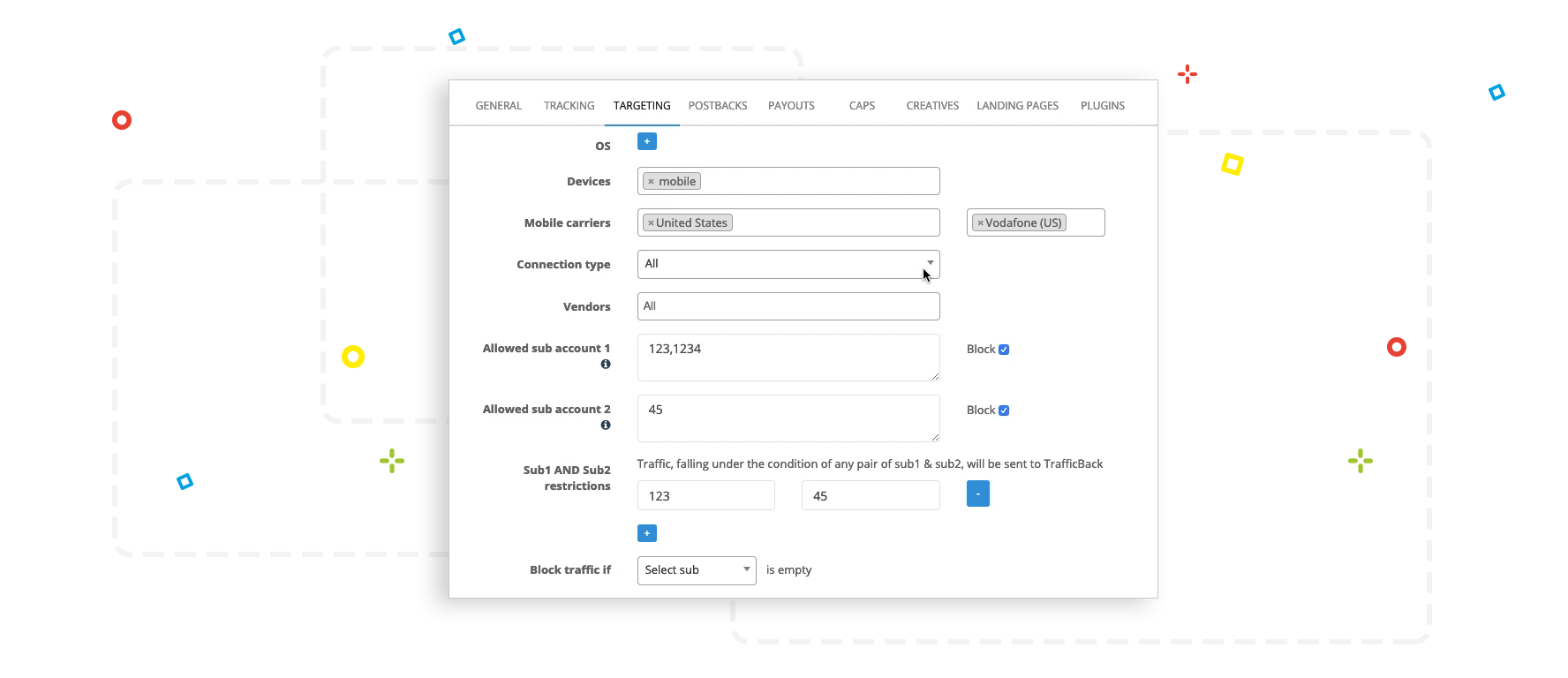 – Configurable and convenient in usage dashboards
Dashboards serve a function of controlling and monitoring both the interim and final performance. You will find general information such as key performance indicators, affiliates' requests, offers' status, affiliates' earnings, all recent notifications etc.
Look at the dashboards from the point of view, whether it will be easy for you to manage affiliates.  Also, consider the affiliates' point of view: for a great user experience they need to have easy access to their stats, payouts, creatives, and other resources. Simple user-friendly interface and custom widgets let affiliates easily understand the system layout and utilize the various features and functions.
– Smart targeting and cap system
Smart targeting allows you to reach a more relevant audience and increase the CR. With Smartlinks it automates the complex processes of analyzing users' data to choose which offers to send to the most interested users, so that the conversion chances become much higher.
In order not to worry about spending more than you can allow on paid advertisement, secure yourself with the cap system. It will stop sending traffic to certain offers once the lead or budget cap is achieved.
– Flexible Payout Models
One of the current needs in any international business is to be able to customize various commission plans, which also includes flexibility in changing currencies.
Affiliate campaigns differ from each other; it's not about the one-size-fits-all approach. Thus, you will require multiple payout models, such as CPI, CPA, CPS & CPC. With a flexible commission facility, you can design a commission plan for your requirements. The most demanded right now though is a pay-per-conversion plan, whereby you pay only for a final conversion not losing money on empty impressions or clicks.
Define which payment models are relevant for you and pay attention that your affiliate network software allows these types or better allows all possible payment models.
2. Rich Analytics for data-driven decision-making
You need to be able to evaluate campaigns performance, predict future results and adjust them for higher profits. By studying your data, you can now learn what type of traffic converts for which particular ad. The step further is analyzing the statistical data in real-time, which allows immediate feedback and faster campaign adjusting. The more data breaks are available at the platform, the better and more accurate data-driven assumptions can be made for the success of future campaigns.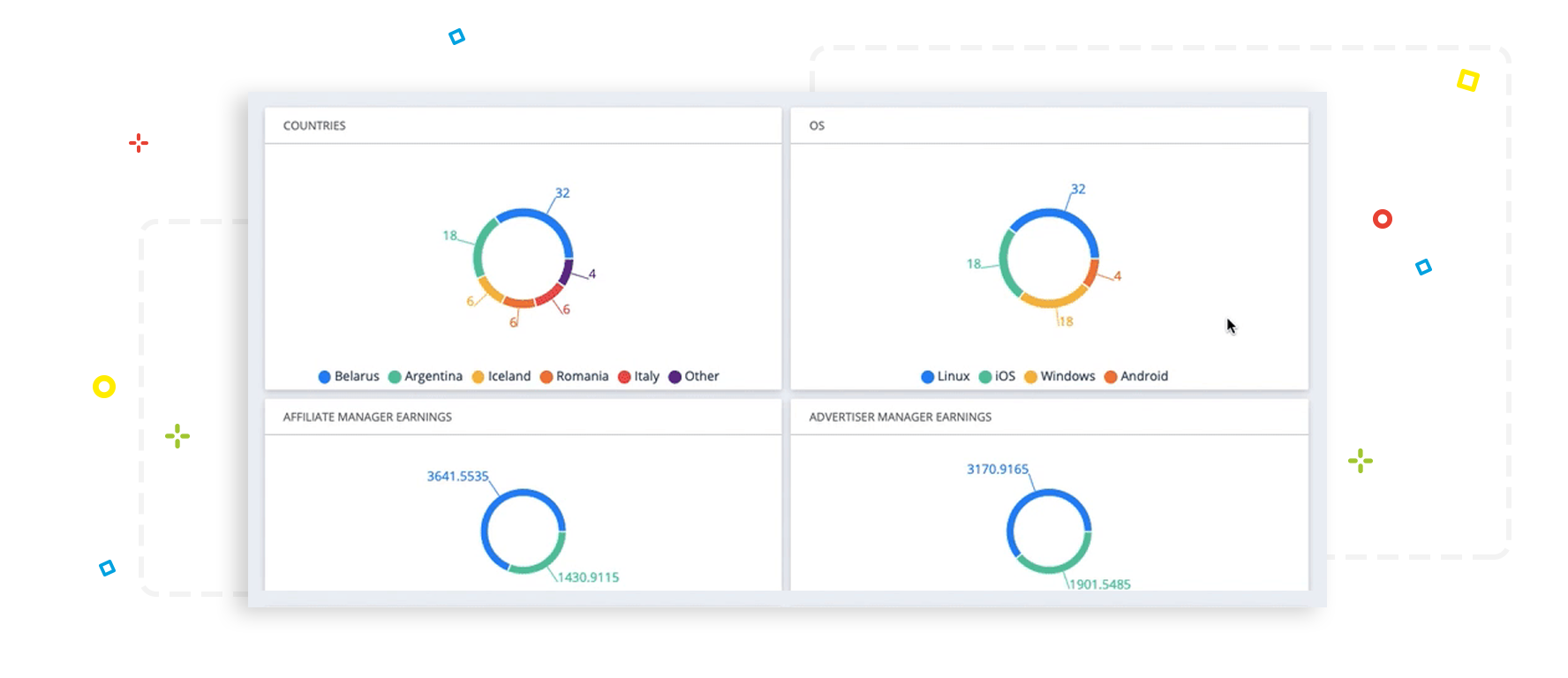 3. Optimization of your campaigns
Besides CR optimization through Smartlinks choose a platform that can optimize other parts of your business as well. Pay attention whether the affiliate management system is developer-friendly through feature-rich API. That is an important matter to keep in mind as you may also need to provide integration with some other systems.
In many cases, affiliates want to synchronize with services that provide billing, fraud detection, offers' checking, BI event streaming, lead generation and more. You can implement any custom integration through the affiliate API. Currently, big providers of affiliate marketing software have their marketplaces, where certain services are already integrated, and you are in a few clicks away from starting to work on it. If your solution is not there, you can still have it through a smooth integration via tracking software API.
4. Space for customization
Everybody wants to stand out, have their brand recognized in every detail and be able to make any needed changes easily. Make sure that your affiliate management system is customizable enough for any possible modification that affiliates might want to make. Customization features that clients mostly seek for design settings, such as landing pages, sign-in forms, logos in templates, shape-shifting layers and icons. Also, among the most common are system settings, alert system, navigation and content, statistics, legal information.
With these features, you have everything for a smooth kick-start of your ad campaign and. Looking for a reliable affiliate marketing software that has all these features – have a closer look at the functional that Affise offers. If you have any further question, do not hesitate to contact us at hey@affise.com. Our team will be happy to answer any questions.