One of the complexities of affiliate marketing lies in multiple conditions under which ad campaigns advertisers target and run ad campaigns. In targeting, there are plenty of conditions that affiliates need to specify. They vary from general, such as geo, connection type, and OS type to more advanced targeting conditions such as mobile carriers, devices, brands, browsers, IP range, subs.  
And what should you do if advertisers have several creatives or landing pages within one offer, and they somehow need to distribute traffic at a particular ration among these pages? Affise has a solution.
Meet our recently implemented traffic distribution feature that allows "weighting" different tracking links within the same targeting groups. In other words, the new feature enables you to set the percentage of traffic distribution between different tracking links within one targeting group.    
Affise offers super-flexible targeting settings that allow users to set a huge number of rules for more effective traffic management. But we never stop improving the functionality in order to satisfy the needs of different types of customers from different niches. Further, with targeting becoming more granular, we always keep on developing new features and enhancing the existing ones.
How does a traffic distribution feature make the difference: 
Flexible traffic management
With a new traffic distribution feature (a.k.a. Targeting groups weights), affiliate marketers can easily manage traffic distribution between different tracking links by specifying the percentage they would like to receive from each group.  
Run several landing pages or creatives within one offer
With several URLs running at the same time, advertisers can provide not only additional content but also present other offers that a visitor might be more prone to take. Well-designed landing pages or creatives are essential components in successfully mapped visitor's journey. Sometimes one landing page or one creative is not enough, that's why advertisers run several under one offer. But they only supplement each other, rather than replace. 
One more benefit of presenting more content is a higher chance to chase and persuade users. We can't always know which content is more efficient when it comes to the final decision. Thus it is always better to have a chance to evaluate and compare the performance of several creatives and landing pages and further to work with the best ones. Enabling the traffic distribution feature, you can split the traffic within one offer and evaluate which landing page converts better. 
 Let's have a look at how it works
For example, you have an offer with two target groups. You go to a new offer set-up where after the general and tracking sections, you have Targetting groups field. Your targeting group will include two tracking URLs.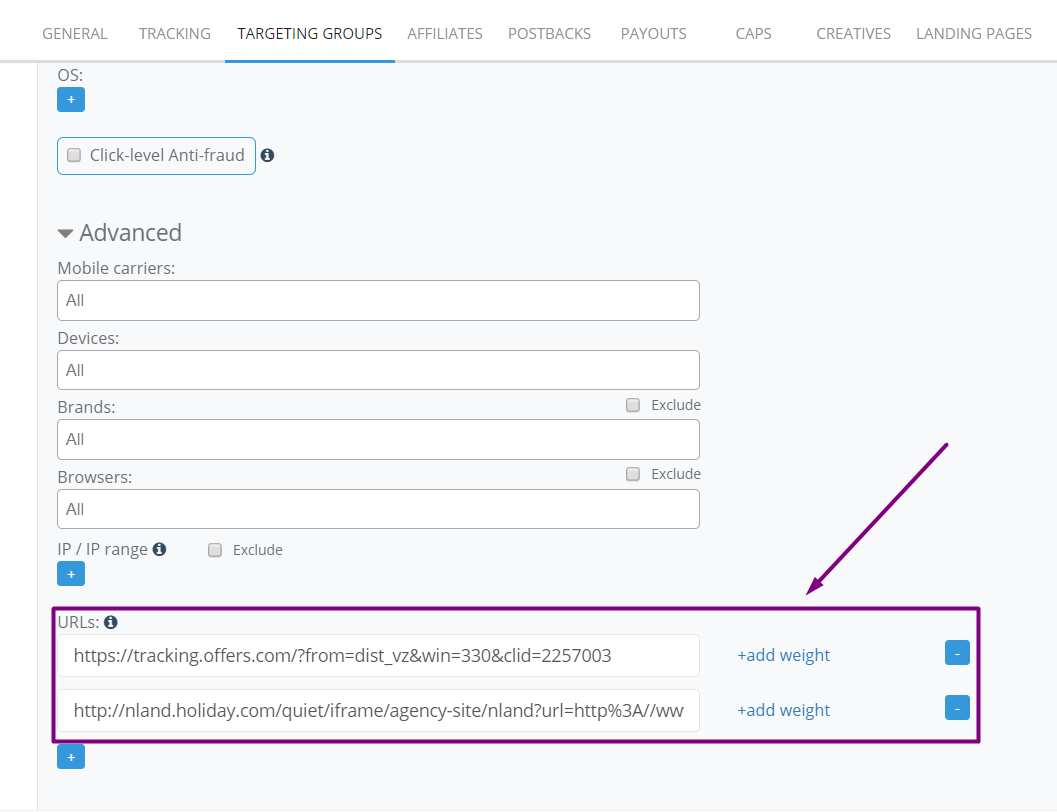 As the next step, you need to distribute your traffic among these two URLs, by adding weight   (the percentage of received traffic) to each.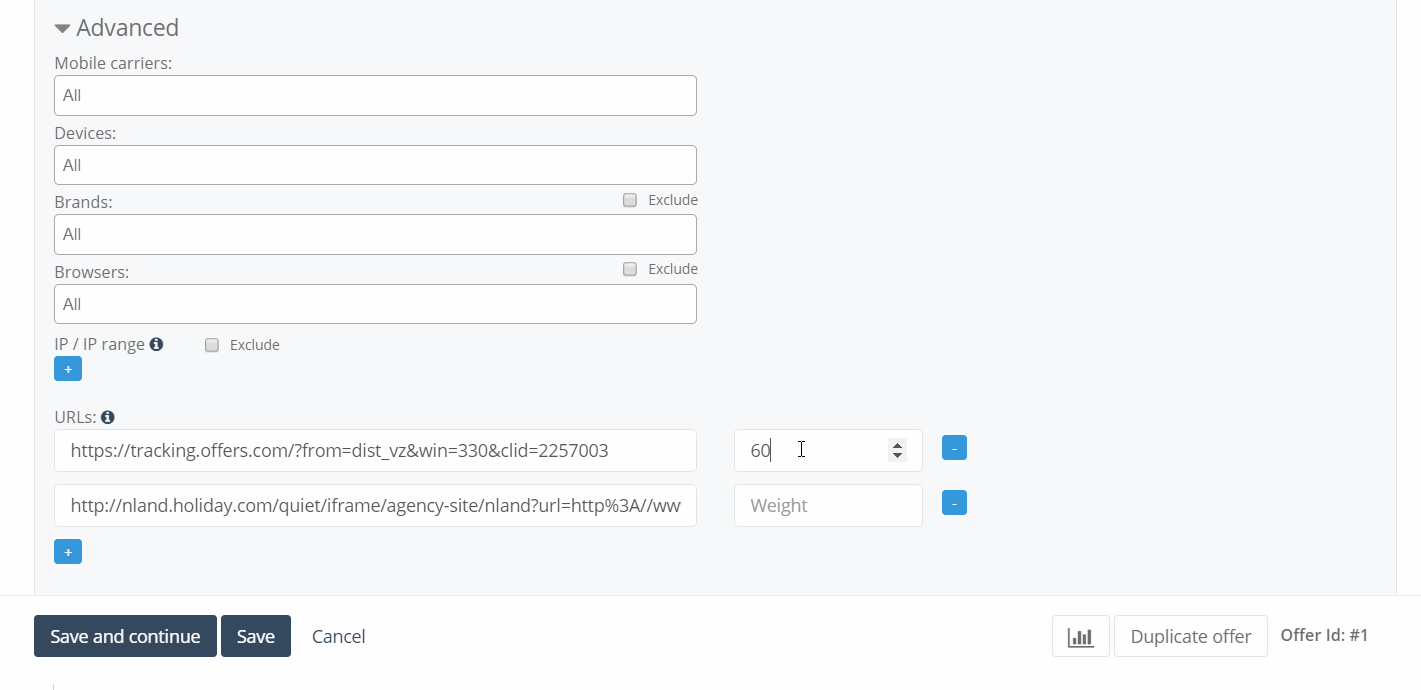 Important things to keep in mind:
-The common percentage of all the traffic should equal or be less than 100 % within one targeting group. Once the percent is higher than 100%, the system will show you a related error message after an attempt to save the offer settings. 
-If the total percentage for all links within one targeting group is lower than 100, the rest of the traffic will go to the main tracking URL of the offer (Tracking tab).
-If you added weight to only one tracking URL,  the system would add the weight to the 2nd additional tracking URL automatically to reach 100 % of traffic distribution. 
Intrigued to start using the feature?
Traffic distribution is available at all plans. So you are just a step away from starting to run your campaigns with several URLs. Should you have any questions about enabling the feature, you can always contact your custom success manager.